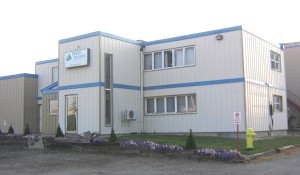 Perth County Ingredients is a privately held Canadian producer of dried egg products, located in St. Marys, Ontario.  Through our advanced facilities, utilizing the latest drying technology and quality systems, we produce dried egg products for the world's food, beverage and sports nutrition industries.  Our products are used in applications such as baking, protein drinks, nutrition bars, fish cakes, sausages, pasta, sauces and more.
Perth County Ingredients traces its heritage back to 1952 when its parent company, Vanderpol's Eggs, began in the shell egg business.  The fascination with the world's most perfect food has seen them become a significant Canadian egg processor maximizing every component of the egg:  liquid, frozen, and dried.  Vanderpol's established the plant in St. Marys in 1984, producing dried, liquid and frozen egg products as well as the isolation and extraction of lysozyme, a natural antimicrobial found in egg white.  Perth County Ingredients continues this tradition of excellence and is committed to the development and production of high-quality dried egg products, serving our valued customers with quality, cost effective and functional egg products.
Perth County Ingredients has also developed high-value dried egg protein products for pet food applications.